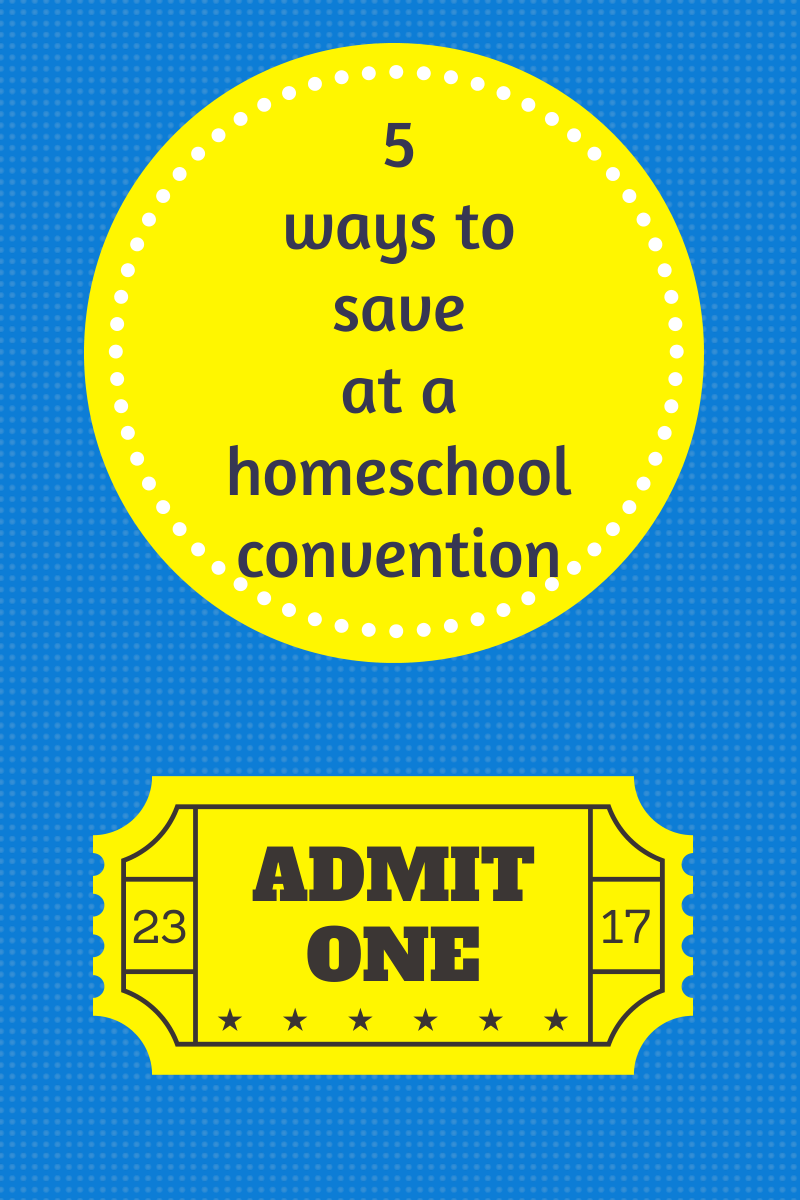 The homeschool convention and workshop season is right around the corner. In the 10+ years that I've been homeschooling, conferences have become more inviting and more organized than ever. Many boast notable keynote speakers, entertainment, the top curriculum publishers and even best-selling authors. In other words, they have become more sophisticated and tempting than ever.
I'm grateful for the ever-increasing support and choices available to homeschoolers and attending a homeschool convention is a great way to get information and inspiration.
On the other hand, it's so easy to waste tens or even hundreds of dollars if you aren't prepared for the overwhelming sights, onslaught of information and enticing materials at nearly every table.
These 5 tips will help you avoid a homeschool curriculum hangover.
#1 Think About Your Needs and Budget Ahead of Time
If you're new to homeschooling, knowing what you'll need before you walk into the vendor hall is difficult which makes it even more important that you resist the urge to buy on the spot. There are so many excellent resources for homeschoolers and nearly everything you see will look perfect for your family.
My advice is to take your time and browse as many booths as possible. Ask questions, look through the books and don't be embarrassed about putting something down and walking away or returning to the booth later for a second look.
It is so easy to rationalize spending money on homeschool books. You might tell yourself that a quality education is worth the money. Or you might tell yourself that the expense is minimal compared to a private school tuition.
If you're like me, you love the look, feel, smell and the promise of a new book.
The best way to resist the temptation of buying something you might not use is to decide on your spending limit ahead of time. Don't forget to include the cost of your admission ticket.
Planning your spending limit ahead of time will help you control impulse purchases that might turn out not to be a good fit.
Keep in mind that everything you see at a homeschool conference will be available for purchase when you get back home.
 #2 Keynote Speakers
Let's talk about the keynote speaker at a convention. Usually, this is a well-known author or advocate of home education. Even the small, regional homeschool convention I attend nearly every year has grown enough to secure nationally-recognized speakers.
In the early years, the keynote address would be given by a local, experienced homeschool parent who spoke on a general topic intended to encourage and inspire conference attendees.
The workshop has grown in number of attendees and curriculum vendors and  now attracts top-notch speakers who typically have designed homeschool materials.
Todd Wilson was invited to our local conference a few years ago.  Not only did he present an entertaining and inspiring keynote address but he also led at least one of the breakout sessions. In between sessions, he was available for questions and casual conversation at his book sales table. Let's be honest, it's awkward to take a guys' time and NOT buy at least one of his books….I bought two!
Keynote and other conference speakers are passionate about a parent's right and ability to educate their children at home.
It's great to have access to experienced and successful home educating parents. I also think it's important to support their work if it's within your needs and budget.
If you plan ahead and decide to spend your dollars on curriculum that you need, you should think twice about spending money on home education encouragement materials. On the other hand, if you're new to homeschooling and are mostly interested in encouragement and general "how-to" resources, you will definitely find that at a conference. The key is to understand your needs at the time.
 #3 New Curriculum
Does anything appeal to your senses more than the crisp clean pages of a brand new book….that promises to educate your child?
It's great to have so many curriculum choices. A convention is a great place to handle books and talk to the publishers or authors to decide whether they're a good fit for your family.
You may have already decided to buy before you get to the convention and purchasing on site can be a smart way to save on shipping costs and ask questions about how best to use the resource or program.
You should keep in mind that most materials at a homeschool convention are available online, some for a fraction of the price.
Again, I think it's important to support publishers and authors but not by wasting money on curriculum that you may not actually use.
#4 Used Book Sales
Collecting too many books (even at a discount) is one of my biggest regrets as a homeschooler and manager of my home.
Many homeschool conventions include an area to purchase used books and curriculum. Buying used books is a great way to save money on curriculum but they're only a bargain if you'll actually use them. No matter how great the resource looks, it's a waste of money if your family won't actually use it.
I fell into the trap of buying materials that I thought that I would use "some day" because they were so inexpensive.
This wasn't a great strategy and if I had to do it all over again, I would rather not have 5 shelves of homeschool books in my house, no matter how economical and excellent they are.
I've been guilty of forgetting what I have and not using it when it's most relevant which is a common problem when you buy books that you intend to use in the future.
I would advise buying what you need for the current year and saving it for younger siblings only if you thought it was useful or excellent.
#5 HSLDA
The Homeschool Legal Defense Association is an advocacy group that also publishes information about the homeschool laws in various states and even in other countries. Anyone can visit the HSLDA website and get information about the basics of their state's homeschooling requirements.
Most large, regional homeschool conventions have a representative from HSLDA to answer questions about state homeschool laws at a booth.
The HSLDA also offers an annual membership which gives subscribers the benefit of legal representation if their rights to homeschool their children are ever challenged.
You definitely have to evaluate your need for this benefit based on your circumstances and the climate of homeschooling in your area or school district.
Although Pennsylvania homeschool laws are among the most demanding in the country and my school district has requested information beyond the homeschool law nearly every year, I have never needed the HSLDA to step in to resolve these misunderstandings.  A simple letter to a school administrator has always been sufficient to straighten things out.
If you decide to pay the annual membership fee to the HSLDA (currently $120 per year or discounts for joining for more than a year), make sure you understand that the HSLDA reserves the right to review every case and decline to represent you at its discretion.
In my opinion, HSLDA membership isn't necessary but you'll have to make that decision for yourself.
Regardless, your decision to join the HSLDA doesn't need to be made on the spot at a homeschool convention. You always have the option of reviewing the membership benefit information when you return home.
I think homeschool conventions are a great way for both new and veteran homeschoolers to learn, connect with like-minded parents and to renew their commitment to home education. Speakers are typically knowledgeable and supportive and often very entertaining. I encourage every homeschooling parent to attend at least one conference during their homeschooling years. If you decide to attend a conference, either on your own, with a friend or with your spouse, keep these tips in mind to minimize the risk of buyer's remorse and cluttering up your book shelves. Even if you end up NOT buying anything, you'll benefit from the experience and encouragement.
So, what should you do if you're reading this advice too late? If you have shelves full of homeschool books, you might be interested in a series I wrote last spring on my other blog about selling used homeschool books.
Do you have any tips for saving money at a homeschool convention? Please share!
Written by BethPhillips