Background
I've been writing about my son's college search process on my personal blog ("Being Home"). I'm sharing the latest news that Luke qualified for the academic scholarship at the University where he committed to play tennis.
Luke had to raise his SAT score by 40 points to get the award ($6,000/year). He hadn't prepared much the first time around so we thought his chances were pretty good but I didn't want to leave it to chance.
The Resource
I bought an online prep course called Kranse Institute that I had read about. The course creator appeared on Shark Tank and partnered with Mark Cuban, which boosted my confidence in the effectiveness and legitimacy of the product.
Luke and I both believe that the course was instrumental in his result.
I wrote a lengthy post on my personal blog about our overall impressions of the course and why we recommend it to friends and family.
Comparison to Other SAT Prep Options
I'm mindful that other prep courses probably offer helpful strategies (maybe even identical) and Khan Academy offers free test prep.
I chose Kranse over other providers because it was affordable (for us) and offers a 100% score improvement money back guarantee (plus other benefits). No other service that I researched offers a guarantee.
It's great that Khan Academy is free but Luke needed more accountability than it provides and a predictable, measurable progression. The format and design of the Kranse course helped him set goals and organize and plan his study and practice time.
Here's a screenshot inside Luke's dashboard. On the left, you can see that the videos he completed are indicated by a green checkmark. The videos play on the right of the screen (includes "full screen" option). This also shows that the course includes a total of 22 discreet writing section strategies with practice videos at the end.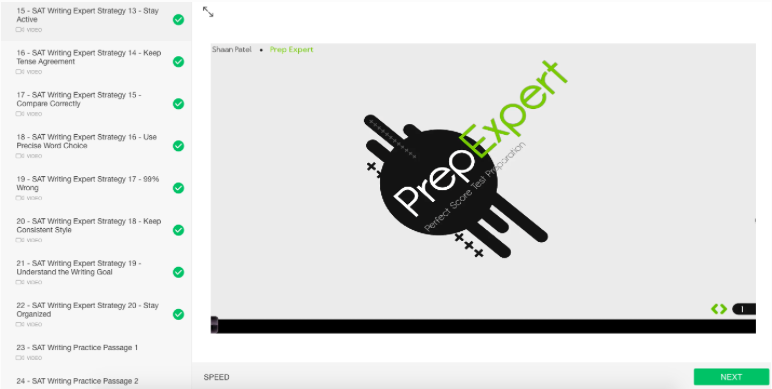 In my opinion, the Kranse strategies are clear and executable. Patel (the Kranse course creator) gives examples within the lesson and offers a number of samples at the end of the bank of subject videos for additional practice.
The tips on Khan Academy are vague and overview-ish ("mark up your passage", "trust yourself", "test the choices").  A page on the Khan Academy website, "How to Approach Sentence and Paragraph Sequence Questions", offers the three "tips" mentioned above and two additional "top tips". How can there be two "top tips"? If they're top tips, shouldn't they be first?
Luke is an auditory learner. Although I didn't consider this factor before buying the course, I'm sure the Kranse course format (voiceover/slides) helped him process the content faster than if he had to read the same strategies and apply it to practice sections.
A Lesson About Scholarships
Anyway, I just wanted to give you all an update on Luke's progress. One important thing I learned is that average (but respectable) grades and SAT scores can still earn scholarship money. Before this year, I thought only top 10% students and scores earned merit scholarships. Luckily, I was wrong.
If you want more information on the course Luke used, including results, the guarantee, pricing and faq's, click here: Kranse Institute*
A Special Offer For My Readers
As I mentioned in a previous post describing our initial impressions of the course, the company agreed to give my readers 50 coupon codes for 30% off. Enter the promo code "ELIZABETHPHILLIPS30" on the checkout page for $150 off the regular price.
If you have a couple minutes, here's Shaan Patel's appearance on Shark Tank.
*This post contains affiliate links. If you purchase the course through a link, I receive a commission at no additional cost to you. It helps support the free content on the website and I really appreciate it. If you would rather not purchase the course through the link, close your browser and go directly to the website by entering the URL or doing a google search.