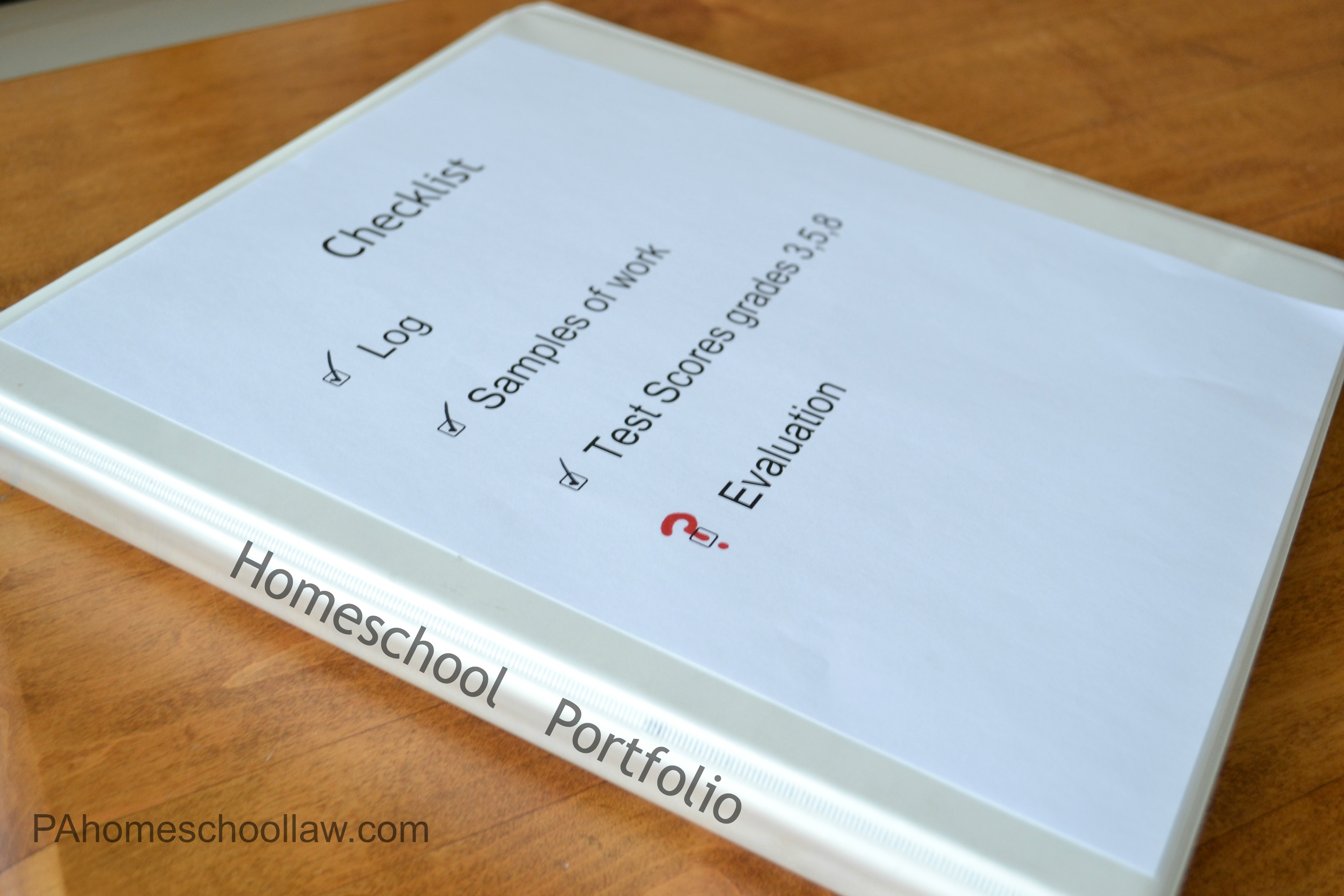 The Pennsylvania homeschool law requires the supervisor of a home education program to submit a portfolio at the end of the year which includes a log, samples of the child's work, standardized test scores in grades 3, 5 and 8 and a letter from a qualified evaluator after reviewing the child's work.
Below are some things you should consider when choosing an evaluator and what to look for before you agree to have him interview and review your child's work.
In general, you should choose an evaluator who;
#1 Supports homeschooling, in general
I can't emphasize enough how important it is that the person you choose to evaluate the students portfolio is supportive of your right to educate your child at home. If you're lucky enough to have a close friend or family member who meets the minimum qualifications under the law AND supports your decision to homeschool, that's great. By all means invite that person to interview (or have a chat with) your child, look over the portfolio and prepare the homeschool evaluation letter to include in the portfolio.
#2 Understands the appropriate standard for reviewing a portfolio
You may know a public or non-public school teacher who is legally qualified to conduct an evaluation under the Pennsylvania homeschool law but doesn't understand their role under the law. The evaluator's job is to interview the child, review the samples of work and determine whether an "appropriate education has taken place".
"Appropriate education" is clearly defined in the PA homeschool law as a "program consisting of instruction in the required subjects for the time required in this act and in which the student demonstrates sustained progress in the overall program". That's it, no more, no less.
Some school teachers or administrators are under the impression that homeschooled children are subject to state standards and benchmarks for each grade level. As a result, they are inclined to compare your child's work to their conventionally-schooled counterparts. This is inappropriate and if the evaluator is unwilling to abandon this line of thinking, I would choose someone else.
You can inform and educate the evaluator regarding the appropriate standard of review and if they're willing to proceed according to its limited scope and having them conduct the evaluation is convenient for you, you can give it a try.
I wouldn't choose a teacher or administrator in your home school district to review your child's portfolio unless he or she is clearly supportive of homeschooling and understands the limited standard of review under the PA homeschool law. Some evaluators require evidence that the homeschooled child is involved in activities or has other social opportunities. This is way out of line and completely outside of the role of an evaluator unless a parent specifically requests guidance in this or other areas.
If a teacher or administrator evaluates a homeschool portfolio and rejects it because he or she applied the wrong standard, you would have a difficult time submitting the portfolio approved by a different evaluator.
#3 Understands that an appropriate education can be obtained in a variety of ways
The Pennsylvania homeschool law gives parents (or legal guardians) wide discretion in designing and directing a child's education. Some people choose a method that looks like school at home, but most PA homeschoolers don't.
A good evaluator should understand and fully support a parent's liberty in choosing curriculum, methods and schedule that best suits the child and family. There's no one right way to learn. If you get the impression that your evaluator will be looking for worksheets and certain texts or work-product according to an inappropriate pre-conceived idea of what SHOULD be in the portfolio, find someone else.
For example, some evaluators publicize that they expect an extensive log or a minimum number of books read, evidence of extracurricular activities, lengthy term papers or reports in certain grades and long interviews. I maintain that these types of evaluations are over-reaching, inappropriate, tend to be expensive and are unnecessary.
#4 Accepts just a sample of work and a simple log
The law clearly states that the portfolio should include "samples of any writings, worksheets, workbooks or creative materials used or developed by the student". "Samples" doesn't mean everything the child produced and "any" doesn't mean "all". I submit between 10 and 15 samples from different subject areas which satisfies the law and is always accepted by my district. The portfolio may not impress administrators, but my goal is to satisfy the law, not to convince school administrators that homeschooling is great.
In addition, the only requirements for the "log" is that it's made contemporaneously with instruction and designates by title the reading materials used.
Some school districts and or evaluators require a minimum number of books listed on the log, which is not required by the law. The law also doesn't require dates or page numbers of books and resources used.
Some PA homeschool "experts" argue that recording dates is the only way to prove that the minimum number of days was met under the statute. I submit that it doesn't and it isn't.
First, there's no way to prove that the dates weren't manufactured. Let's be honest, a supervisor could completely fabricate an entire portfolio, including dates or days taught and samples of work. I don't encourage or advise fabricating dates, I'm suggesting that a list of dates or lesson plans (also not required) doesn't prove that the time requirement was satisfied. Furthermore, neither dates nor lesson plans are required or necessary under the law. The truth is, most home educated students are engaged in productive, "educational" work for more than 180 days each year.
The samples, log, a brief interview and a supervisor's sworn statement in the affidavit that "the home education program shall comply with the provisions of section 1327.1 of the Pennsylvania School Code and the notarized affidavit is satisfactory evidence thereof" is legally sufficient.
#5 Doesn't charge an arm and a leg
The cost for homeschool evaluations range from free to hundreds of dollars for a family.
I'm grateful for qualified evaluators who provide the service for free but I have no problem with an evaluator being compensated for her time, especially if they travel for your convenience. Because I advocate simple and short interviews or distance evaluations (via phone, Skype, Google Hang Out, or FaceTime) and a simple evaluation letter, I don't think high fees are warranted.
Some evaluators justify a high fee because they conduct lengthy interviews, make suggestions for improving your home education program and prepare a detailed report, none of which is required under the law. It's completely up to you if you have a good experience with an expensive evaluator and don't mind spending the money. Some children actually enjoy the process and some homeschooling parents depend on this type of feedback for reassurance. If this type of evaluation adds value to your homeschooling experience, I would encourage you to continue.
Just be aware that a lengthy interview and report isn't necessary to certify that an "appropriate education" has taken place. Remember, that means that the required subjects were covered for the required time and the student demonstrated sustained progress in the overall program.
Although Pennsylvania homeschool law has more requirements than other states, the evaluation shouldn't be a burden. An evaluator should feel privileged to provide this service to your family and should never intimidate or be condescending.
I hesitate to mention that the evaluator should be prepared to defend his or her evaluation in case the school superintendent challenges the portfolio. They need not be present at a hearing but should be willing to defend the evaluation if necessary. It's extremely rare that a superintendent would challenge a portfolio that was certified by an evaluator, though.
Being informed about the appropriate role of an evaluator in your home education program should help you choose the right person for your family.
If you have questions about where to find a qualified evaluator, please contact me. Check out the contact page for details.
Written by BethPhillips